Pavers & Travertine Installation
Planning & Layout – Discuss & Spray Paint Project Layout to measure Square Footage and Review Homeowner Wish List Items.
Excavation – Use Mini Excavator or Skid Steer to level Installation Area. This will allow for Sub-Base Material to be layed and Proper Drainage to be achieved.
Base Material – Pavers are laid over a 2 Part Stone Base including ABC/Crushed Stone and 78m Washed Screenings. Pavers can also be Sand Set over existing Concrete. Base Material Method for Retaining Walls differs from Paver Method
Sand Bedding – Sand laid over Base Material to set Pavers into.
Laying Pavers – Sort through Samples to select Project Material Color and Shape. Choose from Interlocking Pavers, Travertine, Stone or Concrete. Choose from Patterns to suit your Project styling.
Sand Joints
Maintenance – This is not really an issue when it comes to Pavers. The function of your Project should be very reliable and stable.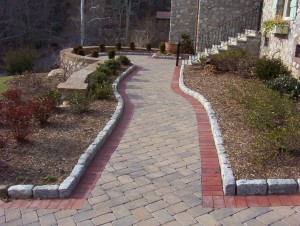 Retaining Wall Installation
Planning & Layout – Installed to give Support to Vertical Sloping Area. Makes area ready to Landscape by leveling Grade. Structural Engineer sometimes required in Planning Stages to help in preventing destabilizaton of the Wall.
Excavation – Use Mini Excavator or Skid Steer to level Installation Area. This will allow for Sub-Base Material to be layed and French Drain to be installed.
Base Material – Geo-Grid every 3rd Course of Block.
Blocking Structure